Key Construction W.L.L. established in 1997. KC is a Bahrain based First Grade Construction Company, in this short period from its inception, the company has recorded a huge growth and has carved a niche for itself in the field of Engineering and Construction.

KC office is in Adliya near Gulf Hotel.
Its Commercial Registration N0. 037538-01 (Grade I Construction Company)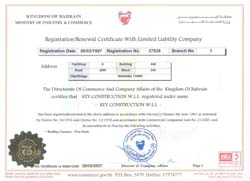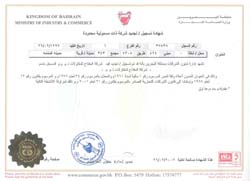 Click on CR to see enlarge view

KC is owned by
Mr. Yusuf Dawood Nonoo
Mr. Arun Varma, Managing Director

Services offered by KC are
General Civil Engineering
Building Contracting
Building Construction
Cleaning / Maintenance Services
Building / Energy Management System

KC is a leading construction company, specialized in handling all forms of Commercial Buildings, Schools, Hospitals, Entertainment Complexes and Residential Development Apartments. It handles turnkey projects from Design to Construction and to handover to clients.

Registration with Ministries are
Ministry of Works & Agriculture
Technical Services Directorate
Committee for Organising EPP
(Engineering Professional Practice)
Ministry of Health

Authorize Capital: BD. Half Million

Issued Capital: BD. 0.2 Million

Auditors are : Nabeel Al Saie, Public Accountants

KC single largest project value is BD. 6.8 millions.

Company has completed few prestigious Prime Ministers Projects and handed over on time. Company has also completed some turnkey housing projects from Design to Construction and Marketing to Handover to satisfied new Home Owners.
Company provides each client and projects the perspective of the full Life cycle from initial construction, to operation and maintenance. With workforce of number of experienced employees (management as well as technical) and hiring more staff on project bases Company follows a disciplined approach ensure the most efficient co-ordination, planning scheduling, cost control, procurement, material control and quality control that is possible to achieve.
KC is well known for handing over projects much before time.

Company recognizes the importance and necessity of sound project planning and progress control to ensure that the projects are completed within the time frame required by the client and in the most efficient manner. A Master Program is produced at the commencement of a project so that the critical on site dates for various activities are identified. This Master program incorporates, Engineering, Services and Installation Activities which are all, inter-related as appropriate and ultimately related to the Contract Milestone Dates. Reports and Plans may be produced daily, weekly or fortnightly or combination of these, depending on the nature & time period and its integration requirements.

The Company has fully equipped manual draughting facilities and fully equipped computer-aided-design CAD facilities. Depending on size of particular project, we also employ additional draughtsman who are site based and are utilized solely for the requirements of an individual project till the as-built drawings. The company also have hi-tech Color Plotter and printing machines for Drawings & capable of reproducing prints.

Quality Assurance (QA) / Quality Control (QC) section involved in the approvals and acceptance process of material procurement. Before any orders as well as upon deliveries of material, a series of checks are carried out and documented to insure that the proposed materials meet the requirements of the contract. At all stages of the construction process, inspections and tests, where appropriate are carried out by QA/QC section and work stages can only be progresses as and when the relevant approvals to proceed are granted.

The management of the company recognizes the need and accepts responsibility for providing a safe & healthy workplace and working environment for all employee and will provide the resources to fulfill this commitment. The company provides the technical advice on safety and health matters to Site in charges / Foreman as necessary to assist other site staff.